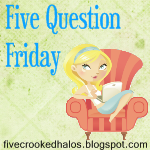 Source


1. What movie could you watch over and over again and not get tired of?
500 Day of Summer, Ten Things I hate about You or How to lose a guy in 10 days :)

2. What's your biggest pet peeve right now?
Girls who think they are better than others and need to be worshipped.

3. If you had to describe your best friend in five words or less, what would you say?
crazy, hilarious, trust worthy, beautiful, caring and amazing.

4. If you did not have to worry about money or go to school what would you do for a living?
have my own cupcake bar and be a fashion designer haha. i am going to make this happen! i promise you.

5. What is your one "splurge" item, that you will always buy, no matter the cost?
Three things.. pretty vintage dresses, liquid eyeliner, and chapstick. I'm weird.